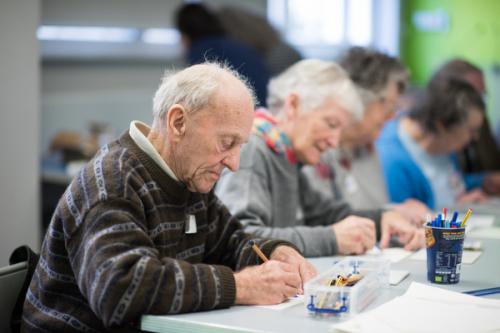 20 March 2019
20 March 2019
When: 20 March 2019
Where: Royal Albert Memorial Museum & Art Gallery, Queen Street, Exeter, EX4 3RX
Time: 10:30 - 12:30
Cost: £15 includes companion
Suitable for: Not suitable for children, 18+

A hands-on creative activity using the Criminal Ornamentation exhibition as inspiration.
Our dementia-friendly activities are suitable for people with mild to moderate memory problems, who must be accompanied by a friend, relative or carer. Each visit begins with refreshments. An illustrated information sheet is available to take home and carry on the conversation.
Booking your place - Numbers are limited to ensure the best possible experience. Booking in advance will guarantee your place. Tickets can be obtained online and in person. There is limited disabled parking; please book a space if you need one.
Contact us about group rates: T 01392 265305, E ruth.gidley@exeter.gov.uk
www.rammuseum.org.uk/about-ramm/participation/living-each-season