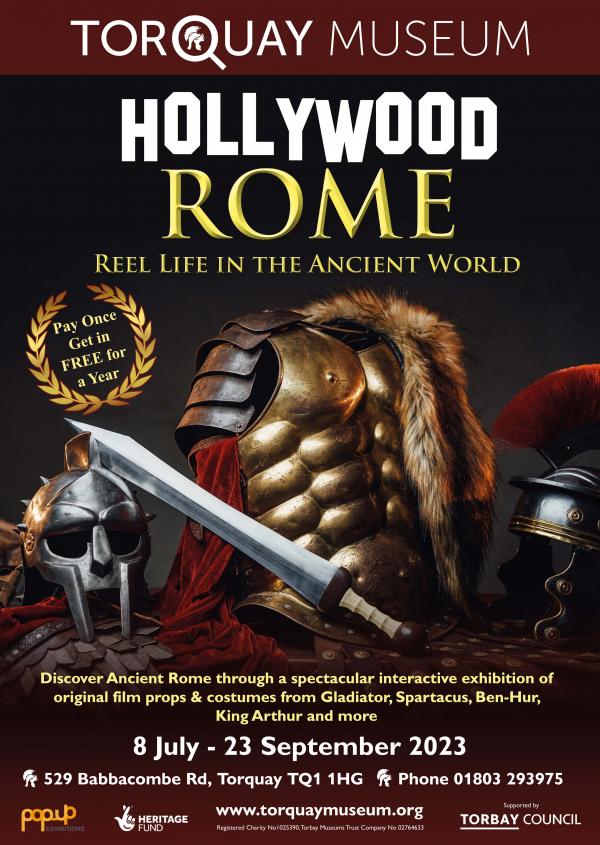 Hollywood Rome: Reel Life in the Ancient World
Torquay Museum
When: 08 July 2023 to 23 September 2023
Where: Pengelly Hall
Time: 10:00 - 16:00
Cost: £4.50 - £11
Suitable for: Any age

Discover Ancient Rome through a spectacular interactive exhibition of original film props & costumes from Gladiator, Spartacus, Ben-Hur, King Arthur and more.
This exciting new exhibition revisits one of the most popular periods of history, Ancient Rome, for an entirely new take on one of the world's great civilisations. The Roman era has interested storytellers from William Shakespeare to Stanley Kubrick. From AD 2000 with the making of Ridley Scott's Gladiator the Hollywood Roman epic was reborn. This exhibition brings together Pop-Up Exhibition's outstanding collection of screen-used cinema and television props, costumes and armour, from films such as Gladiator (2000), King Arthur (2004), Centurion (2009), The Eagle (2011) Ben-Hur (2016) and Spartacus (2010-13). It interprets them in the context of the history and archaeology that have inspired the filmmakers, presenting historical figures in a way that will connect with modern audiences and fans of historical cinema. The exhibition includes interactive and handling elements, original cinema posters and banners, screen-used fabric hangings from Gladiator and museum-standard graphic interpretation. It also includes a section on classic sword and sandal cinema of the 1950s and 60s.
This exhibition is included with a valid entry ticket. You only pay once and get in FREE for a year!
Exhibitions & Projects
Six Legged Superheroes: Insects Saving the Planet

Torquay Museum

27 May 2023 to 07 October 2023

The Silver Wave by Michelle Williams Gamaker

Royal Albert Memorial Museum and Art Gallery

20 October 2022 to 08 October 2023

The Great Fire of Crediton

Crediton Area History And Museum Society

19 April 2023 to 28 October 2023

Cecil Isobel Elgee

Fairlynch Museum Budleigh Salterton

07 April 2023 to 29 October 2023

Reframing Reynolds: A Celebration

The Box, Plymouth

24 June 2023 to 29 October 2023

Tea Room Exhibition

Topsham Museum

29 March 2023 to 31 October 2023

Dick Pym the Fisherman Footballer

Topsham Museum

29 March 2023 to 31 October 2023

Votive for the Next Earth by MH Sarkis

Royal Albert Memorial Museum and Art Gallery

02 May 2023 to 19 November 2023

Art Pottery

Royal Albert Memorial Museum and Art Gallery

20 June 2023 to 10 December 2023

Hollow Earth: Art, Caves and the Subterranean Imaginary

Royal Albert Memorial Museum and Art Gallery

23 September 2023 to 07 January 2024

The Armada Portrait of Queen Elizabeth I

The Box, Plymouth

11 February 2023 to 07 January 2024

Dutch Flowers

The Box, Plymouth

07 October 2023 to 07 January 2024

People and Place: Art Collection Showcase

The Box, Plymouth

04 February 2023 to 24 January 2024

Project Buzz

Royal Albert Memorial Museum and Art Gallery

13 June 2023 to 28 January 2024

A British Museum Touring Exhibition Egyptian hieroglyphs: unlock the mystery

Torquay Museum

21 October 2023 to 18 February 2024

The Museum is delighted to announce that a collection of Shaldon handmade lace over 100 years old has been acquired

Teign Heritage Centre Home to Teignmouth and Shaldon Museum

09 May 2023 to 09 May 2024

Yinka Shonibare CBE RA: End of Empire

The Box, Plymouth

12 October 2023 to 23 June 2024