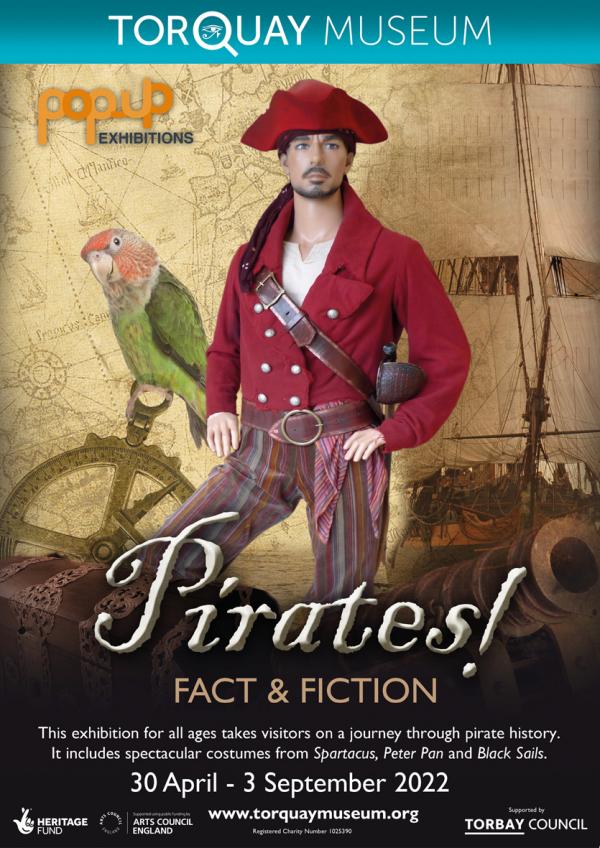 When: 30 April 2022 to 03 September 2022
Where: Pengelly Hall Torquay Museum
Time: 10.00 am - 4.00 pm
Cost: Normal Admission Charges Apply
Suitable for: Family friendly

From 30th April discover the world of maritime crime with Pirates! Fact and Fiction. This exhibition takes the visitor on a journey through pirate history, film and literature. From the Cilician pirates of the Roman Mediterranean to the Golden Age pirates of the Caribbean. Meet Vikings, Barbary corsairs and Chinese pirates on the way and discover facts about their ships, weapons, tactics and usually short lives! This UK touring exhibition Includes spectacular props costumes from TV and cinema productions including, Black Sails, Peter Pan and Spartacus. There are also many period objects including: weapons, ship models and treasure. This is a must see for children and adults alike and has interactives and a treasure trail.
Exhibition Gallery
Exhibitions & Projects
Earth Spells: Witches of the Anthropocene

Royal Albert Memorial Museum and Art Gallery

11 February 2023 to 07 May 2023

Sue Williamson: Between Memory and Forgetting

The Box, Plymouth

04 February 2023 to 04 June 2023

Hannah Quinlan and Rosie Hastings: Portraits

The Box, Plymouth

04 February 2023 to 04 June 2023

Making a Mark: Dazzling Drawings from the Cottonian Collection

The Box, Plymouth

04 February 2023 to 04 June 2023

Youth Panel: Making Sense

Royal Albert Memorial Museum and Art Gallery

17 January 2023 to 11 June 2023

Coronation Celebration

Royal Albert Memorial Museum and Art Gallery

14 March 2023 to 18 June 2023

Ruth Bell: Calling of the Tide

Royal Albert Memorial Museum and Art Gallery

10 January 2023 to 09 July 2023

What do you collect Lace bobbins

Royal Albert Memorial Museum and Art Gallery

10 January 2023 to 09 July 2023

Gatekeepers to Heaven: Religion, knowledge and power in medieval Exeter

Royal Albert Memorial Museum and Art Gallery

03 June 2023 to 03 September 2023

Sublime Symmetry: The Mathematics behind De Morgan's Ceramic Designs

Royal Albert Memorial Museum and Art Gallery

20 May 2023 to 10 September 2023

The Silver Wave by Michelle Williams Gamaker

Royal Albert Memorial Museum and Art Gallery

20 October 2022 to 08 October 2023

The Great Fire of Crediton

Crediton Area History And Museum Society

19 April 2023 to 28 October 2023

Tea Room Exhibition

Topsham Museum

29 March 2023 to 31 October 2023

Dick Pym the Fisherman Footballer

Topsham Museum

29 March 2023 to 31 October 2023

Votive for the Next Earth by MH Sarkis

Royal Albert Memorial Museum and Art Gallery

02 May 2023 to 19 November 2023

Art Pottery

Royal Albert Memorial Museum and Art Gallery

20 June 2023 to 10 December 2023

The Armada Portrait of Queen Elizabeth I

The Box, Plymouth

11 February 2023 to 07 January 2024

People and Place: Art Collection Showcase

The Box, Plymouth

04 February 2023 to 24 January 2024

Project Buzz

Royal Albert Memorial Museum and Art Gallery

13 June 2023 to 28 January 2024