Plundering Pirates: Film Fact and Fiction
Torquay Museum
When: 29 June 2013 to 06 September 2013
Where: Pengelly Hall, Torquay Museum
Time: 10.00am - 5.00pm
Cost: Yes standard admission charge
Suitable for: Family friendly

Brace yourselves as Plundering Pirates descend upon the Museum for this family-friendly summer exhibition!
Learn about life as a pirate and the gruesome punishments meted out to them if they were caught. See Captain Jack Sparrow's Costume From The Pirates of the Caribbean and puppets from Aardman Animations' movie The Pirates! In an Adventures with Scientists! Then see the types of cannons, swords, muskets and treasure that were central to the life of pirates around the world. With interactives and a treasure trail. Check the Museum's website for events throughout the summer.
Please Note: The 'Pirates of the Caribbean' Costumes have now left the exhibition, but it will remain open this weekend, for you to see our other pirate treasures.
Exhibition Gallery
Original Jack Sparrow costume work by Jonny Depp in 'Pirates of the Caribbean'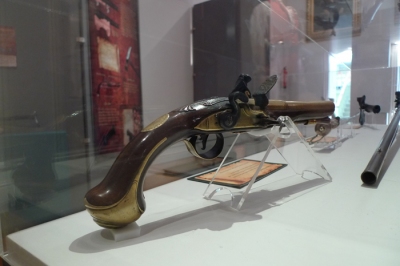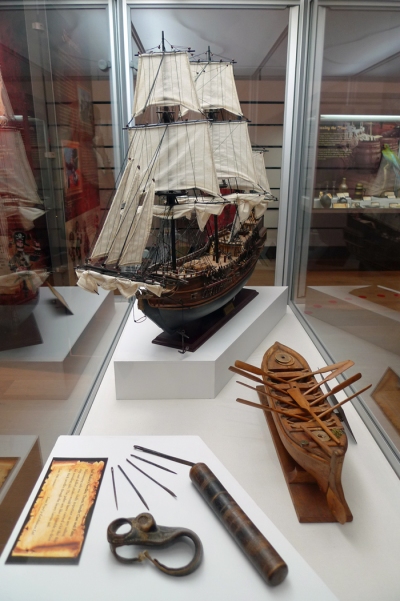 Exhibitions & Projects
In a New Light

The Museum of Barnstaple and North Devon

01 October 2022 to 18 February 2023

Made to be Played: A Festival of Musical Instruments

Torquay Museum

24 September 2022 to 11 March 2023

Shaldon Fore Street through time

Teign Heritage Centre Home to Teignmouth and Shaldon Museum

12 March 2022 to 12 March 2023

Earth Spells: Witches of the Anthropocene

Royal Albert Memorial Museum and Art Gallery

11 February 2023 to 07 May 2023

Sue Williamson: Between Memory and Forgetting

The Box, Plymouth

04 February 2023 to 04 June 2023

Hannah Quinlan and Rosie Hastings: Portraits

The Box, Plymouth

04 February 2023 to 04 June 2023

Making a Mark: Dazzling Drawings from the Cottonian Collection

The Box, Plymouth

04 February 2023 to 04 June 2023

Youth Panel: Making Sense

Royal Albert Memorial Museum and Art Gallery

17 January 2023 to 11 June 2023

Ruth Bell: Calling of the Tide

Royal Albert Memorial Museum and Art Gallery

10 January 2023 to 09 July 2023

What do you collect Lace bobbins

Royal Albert Memorial Museum and Art Gallery

10 January 2023 to 09 July 2023

The Silver Wave by Michelle Williams Gamaker

Royal Albert Memorial Museum and Art Gallery

20 October 2022 to 08 October 2023

The Armada Portrait of Queen Elizabeth I

The Box, Plymouth

11 February 2023 to 07 January 2024

People and Place: Art Collection Showcase

The Box, Plymouth

04 February 2023 to 24 January 2024