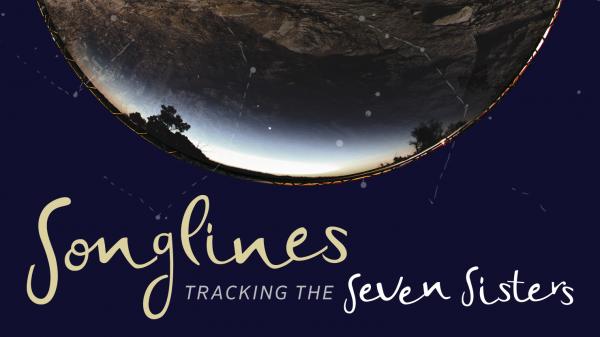 Songlines: Tracking the Seven Sisters
The Box, Plymouth
When: 21 October 2021 to 27 February 2022
Where: The Box, Tavistock Place, Plymouth PL4 8AX
Time: 10am - 5pm
Cost: £10 adults | £7.50 concessions | Free to Plymouth residents (up to 4 tickets on first vi
Suitable for: Any age

The National Museum of Australia's award-winning exhibition travels to Plymouth this autumn/winter.
Experience ancient stories from the world's oldest continuing culture, told through more than 300 paintings and objects by over 100 different artists.
This is an epic journey that crosses three states, three deserts and some 500,000 square kilometres. With ceramics, paintings, sculpture, installation, film and the world's highest-resolution travelling dome, come and immerse yourself in a once-in-a-lifetime exhibition that uses the power of art and culture to connect us across time zones and international borders.
Central to the exhibition are the Seven Sisters Dreaming stories – ancient creation sagas of the Australian continent – and the aim to preserve them for future generations.
'Songlines: Tracking the Seven Sisters' is part of the UK/Australia Season 2021/22 – a major programme of cultural exchange between the two countries.
The exhibition is on display across a number of spaces at The Box and in The Levinsky Gallery at the University of Plymouth, in partnership with The Arts Institute. Please note: opening hours in The Levinsky Gallery are 10am-5pm Tues-Fri and 12pm-5pm Sat and Sun.
Exhibitions & Projects
150 years of Exeter Rugby Club: From Local Heroes to European Champions

Royal Albert Memorial Museum and Art Gallery

29 July 2022 to 28 August 2022

Pirates! Fact and Fiction

Torquay Museum

30 April 2022 to 03 September 2022

Titanic Exhibition: Torquay Museum

Torquay Museum

11 June 2022 to 03 September 2022

Dress Code Fashion Stories from The Box

The Box, Plymouth

02 April 2022 to 04 September 2022

George Shaw: The Local

The Box, Plymouth

18 June 2022 to 04 September 2022

because the night belongs to us

The Box, Plymouth

25 June 2022 to 04 September 2022

Maurizio Anzeri: On The Move

The Box, Plymouth

02 April 2022 to 11 September 2022

Brick by Brick: A LEGO brick history of Exeter

Royal Albert Memorial Museum and Art Gallery

18 June 2022 to 11 September 2022

The Partridge Family of Barnstaple

The Museum of Barnstaple and North Devon

14 May 2022 to 29 October 2022

The Michelangelo Trail: A Delve Into LGBTQ Histories

Torquay Museum

01 February 2022 to 31 December 2022

Simon Pope: Here's to Thee

Royal Albert Memorial Museum and Art Gallery

31 January 2022 to 08 January 2023

Kay Walsh: All His Rights

Royal Albert Memorial Museum and Art Gallery

28 June 2022 to 08 January 2023

Picked and pressed: the appeal of edible plants

Royal Albert Memorial Museum and Art Gallery

28 June 2022 to 08 January 2023

Flutes and Lutes

Royal Albert Memorial Museum and Art Gallery

21 June 2022 to 08 January 2023

Sounds of the World

Royal Albert Memorial Museum and Art Gallery

21 June 2022 to 08 January 2023

In a New Light

The Museum of Barnstaple and North Devon

01 October 2022 to 18 February 2023

Shaldon Fore Street through time

Teign Heritage Centre Home to Teignmouth and Shaldon Museum

12 March 2022 to 12 March 2023

Ruth Bell: Calling of the Tide

Royal Albert Memorial Museum and Art Gallery

10 January 2023 to 09 July 2023