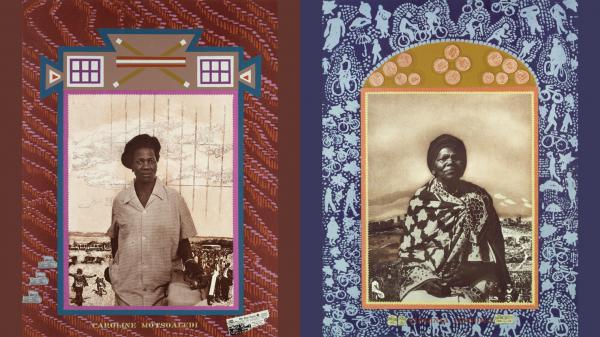 Sue Williamson: Between Memory and Forgetting
The Box, Plymouth
When: 04 February 2023 to 04 June 2023
Where: The Box, Tavistock Place, Plymouth PL4 8AX
Time: 10am - 5pm
Cost: Admission free. No need to book.
Suitable for: Any age

10am-5pm Tuesday-Sunday + selected bank holidays
Sue Williamson (b.1941) is a British-born South African artist and activist. 'Between Memory and Forgetting' presents an extended overview of her work, dating from 1981 until today as well as a major new sculptural commission. This is Williamson's first institutional show in the UK.
For over 40 years, Williamson's work has celebrated the underrated realisations of women, who played key roles not only in South Africa's liberation struggle, but in the years that followed. The artist aims to bring these women and their histories to a wider audience, while also connecting the societal changes they allowed with the lives of their granddaughters and younger generations.

'Between Memory and Forgetting' includes mixed media portraits, photographs and drawings. A major new sculptural commission, 'Towards Another World', takes its starting point from two identical looking Anglo-Boer War (1899-1902) memorials in Plymouth, UK and Bloemfontein, South Africa, and considers the significance of memorials; those who are honoured, and those who do not receive a mention.

Between Memory and Forgetting is an exhibition that speaks about liberation struggles, those who are not memorialised due to power hierarchies and the role and recognition of women who have fought and are still fighting for a more equal society.
Exhibitions & Projects
Youth Panel: Making Sense

Royal Albert Memorial Museum and Art Gallery

17 January 2023 to 11 June 2023

May The Toys Be With You

Torquay Museum

25 March 2023 to 17 June 2023

Coronation Celebration

Royal Albert Memorial Museum and Art Gallery

14 March 2023 to 18 June 2023

A look at Higher Brook Street in the 19th Century

Teign Heritage Centre Home to Teignmouth and Shaldon Museum

10 May 2023 to 27 June 2023

Ruth Bell: Calling of the Tide

Royal Albert Memorial Museum and Art Gallery

10 January 2023 to 09 July 2023

What do you collect Lace bobbins

Royal Albert Memorial Museum and Art Gallery

10 January 2023 to 09 July 2023

Gatekeepers to Heaven: Religion, knowledge and power in medieval Exeter

Royal Albert Memorial Museum and Art Gallery

03 June 2023 to 03 September 2023

Sublime Symmetry: The Mathematics behind De Morgan's Ceramic Designs

Royal Albert Memorial Museum and Art Gallery

20 May 2023 to 10 September 2023

Rana Begum: Dappled Light

The Box, Plymouth

24 June 2023 to 24 September 2023

Six Legged Superheroes: Insects Saving the Planet

Torquay Museum

27 May 2023 to 07 October 2023

The Silver Wave by Michelle Williams Gamaker

Royal Albert Memorial Museum and Art Gallery

20 October 2022 to 08 October 2023

The Great Fire of Crediton

Crediton Area History And Museum Society

19 April 2023 to 28 October 2023

Reframing Reynolds: A Celebration

The Box, Plymouth

24 June 2023 to 29 October 2023

Tea Room Exhibition

Topsham Museum

29 March 2023 to 31 October 2023

Dick Pym the Fisherman Footballer

Topsham Museum

29 March 2023 to 31 October 2023

Votive for the Next Earth by MH Sarkis

Royal Albert Memorial Museum and Art Gallery

02 May 2023 to 19 November 2023

Art Pottery

Royal Albert Memorial Museum and Art Gallery

20 June 2023 to 10 December 2023

The Armada Portrait of Queen Elizabeth I

The Box, Plymouth

11 February 2023 to 07 January 2024

People and Place: Art Collection Showcase

The Box, Plymouth

04 February 2023 to 24 January 2024

Project Buzz

Royal Albert Memorial Museum and Art Gallery

13 June 2023 to 28 January 2024

The Museum is delighted to announce that a collection of Shaldon handmade lace over 100 years old has been acquired

Teign Heritage Centre Home to Teignmouth and Shaldon Museum

09 May 2023 to 09 May 2024