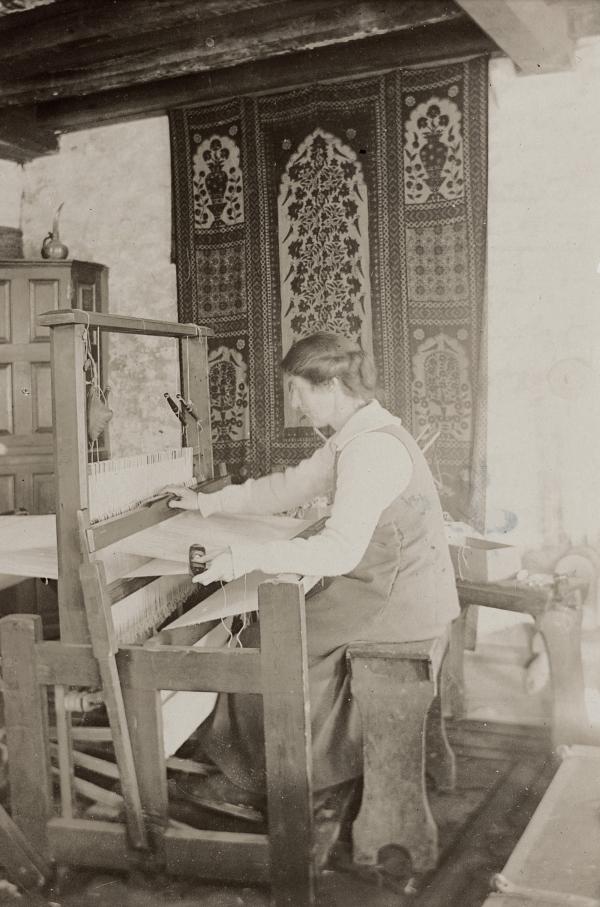 When: 14 May 2022 to 29 October 2022
Where: Temporary Exhibition Gallery
Time: 10am - 5pm
Cost: FREE
Suitable for: Any age

This May will see a new exhibition telling the little-known story of Barnstaple's Partridge family who became influential members of the Arts and Crafts movement.
The project explores the lives and work of Ethel, Fred and Maud Partridge, who were born and educated locally in the late nineteenth century and went on to become part of the artistic community of Ditchling, where their circle included Bernard Leach, Shoji Hamada, Eric Gill and many more.
The exhibition brings together items from the Museum's own Partridge Geology Collection with loans from national and regional museums including: examples of Ethel's celebrated handmade textiles from the Crafts Study Centre and Ditchling Museum of Arts and Craft; jewellery created by Fred from the V&A, Fitzwilliam and Birmingham Museums; and a first edition copy of a book on Mediaeval Sinhalese art from the British Library.
The exhibition is accompanied by a spring and summer events programme which includes an exclusive three-day workshop working with renowned weavers Jenny Wilkinson and Angie Parker, adults talks and children's workshops.
To find out more about the museum's events programme visit our What's on page.
The loans are supported by the Weston Loan Programme with Art Fund. Created by the Garfield Weston Foundation and Art Fund, the Weston Loan Programme is the first ever UK-wide funding scheme to enable smaller and local authority museums to borrow works of art and artefacts from national collections.
Exhibitions & Projects
The Partridge Family of Barnstaple

The Museum of Barnstaple and North Devon

14 May 2022 to 29 October 2022

British Art Show 9

The Box, Plymouth

08 October 2022 to 23 December 2022

The Michelangelo Trail: A Delve Into LGBTQ Histories

Torquay Museum

01 February 2022 to 31 December 2022

Simon Pope: Here's to Thee

Royal Albert Memorial Museum and Art Gallery

31 January 2022 to 08 January 2023

Kay Walsh: All His Rights

Royal Albert Memorial Museum and Art Gallery

28 June 2022 to 08 January 2023

Picked and pressed: the appeal of edible plants

Royal Albert Memorial Museum and Art Gallery

28 June 2022 to 08 January 2023

Flutes and Lutes

Royal Albert Memorial Museum and Art Gallery

21 June 2022 to 08 January 2023

Sounds of the World

Royal Albert Memorial Museum and Art Gallery

21 June 2022 to 08 January 2023

A Picture of Health: Exeter's Medical History

Royal Albert Memorial Museum and Art Gallery

01 October 2022 to 22 January 2023

In a New Light

The Museum of Barnstaple and North Devon

01 October 2022 to 18 February 2023

Made to be Played: A Festival of Musical Instruments

Torquay Museum

24 September 2022 to 11 March 2023

Shaldon Fore Street through time

Teign Heritage Centre Home to Teignmouth and Shaldon Museum

12 March 2022 to 12 March 2023

Ruth Bell: Calling of the Tide

Royal Albert Memorial Museum and Art Gallery

10 January 2023 to 09 July 2023