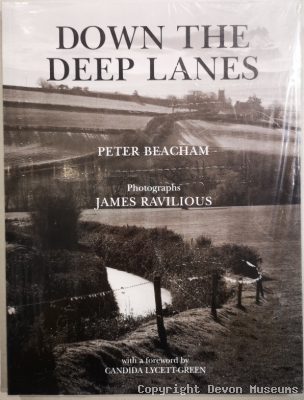 Down the Deep Lane by Peter Beachman
Price: £19.95
Stock: 2 available
Down the Deep Lane by Peter Beacham. This book takes the reader on a journey down Devon's deep lanes into the heart of a countryside not usually recognised by the ordinary guidebooks....... what is described and illustrated here is the suff of everyday existence in the rural south west, the lanes the fields, the farmsteads, the orchards and the vegetable garden, con and corrugated iron, and the pervading weather. Soft back 144 pages of text and photos. 31 cm - 23cm
You might also be interested in?
Captured at Sea Merchant ships captured in the south west seas of Britain in the time of Napoleon 1803,1815 By Colin Rees and Professor Peter Clark

£16.00

During the Napoloenoic Wars of 1803-1825 many British merchant ships were captured and their crew were imprisoned in France.

the book of Barnstaple Memories of a coastal market town by Avril Stone

£24.99

Barnstaple lies on the River Taw estuary some 5 miles from the sea.