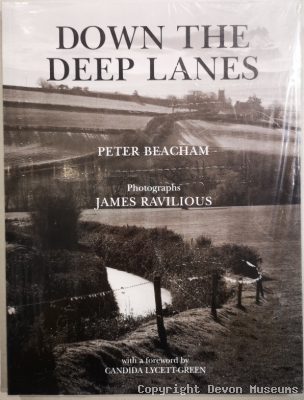 Down the Deep Lane by Peter Beachman
Price: £19.95
Stock: 1 available
Down the Deep Lane by Peter Beacham. This book takes the reader on a journey down Devon's deep lanes into the heart of a countryside not usually recognised by the ordinary guidebooks....... what is described and illustrated here is the suff of everyday existence in the rural south west, the lanes the fields, the farmsteads, the orchards and the vegetable garden, con and corrugated iron, and the pervading weather. Soft back 144 pages of text and photos. 31 cm - 23cm
You might also be interested in?
Barnstaple Yesterday

£4.50

A fabulous way to learn about how Barnstaple has changed over the years 161 old photographs of Barnstaple from the 1860's onwards, with detailed and informative notes on each.

Us Be Goin to Barnstaple Fair

£9.99

A glimpse into the history of Barnstaple great fair by Maureen Wood 21cm-15cm 277 pages.