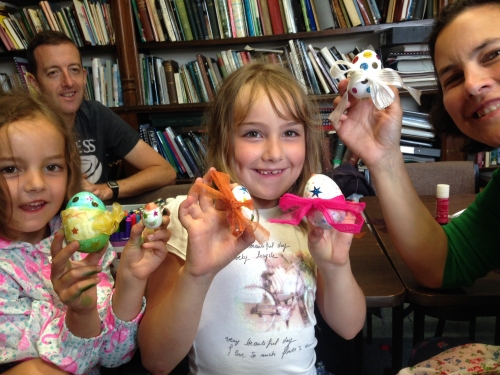 Learning with the Museum of Barnstaple and North Devon
We are currently offering self-guided tours for schools.
We have a loan box service on different curriculum themes such as Romans, Pre-History and WW1/2. These are avaliable for loan by schools, home educators and community groups.
As a local schools and college resource we also offer work experience and placement opportunities.
Please call to discuss your requriements 01271 346747 or email museum@northdevon.gov.uk
Email museum@northdevon.gov.uk
Resources available
Free Teaching Resources
For our free prehistory teaching resources please click HERE
For our free World War I local history resources please click HERE
Please contact museum@northdevon.gov.uk for any particular curriculum needs to see if we can help.
Self Guided Visits
Teacher-led visits are free.
Rooms for baggage and lunch can be organised, subject to availability.
Students are welcome to sketch and take notes but no wet or messy media such as watercolours or charcoals are allowed. Photographs can be taken, preferably without flash, in all but the temporary exhibition galleries.
No eating is allowed in the galleries, but you are welcome to take a snack break out on the square or by arranging the the use of the Learning Room subject to availability.
What we require from you
Please do:
Book your visit by emailing museum@northdevon.gov.uk or telephoning 01271 346747
Familiarise yourself with The Museum and formulate your own risk assessment.
Plan a suitable venue for your lunch break. Rooms can be arranged for lunch but food and drink may not be consumed in the galleries.
Upon arrival at the main entrance please register with staff/volunteers to confirm that adult:child ratios are correct.
Keep access to galleries and exits clear.
Supervision
Maximum group size 30.
One teacher must be QTS accredited (Qualified Teacher Status) and there must also be an additional teacher to circulate between groups. We would recommend splitting up large groups during the visit.
Children aged 0 – 4 1 adult: 3 children
Children aged 5 – 7 (KS1) 1 adult: 6 children
Children aged 8 -11 (KS2) 1 adult: 10 children
Children aged 12 and over (KS3 +) 1 adult: 15 children
Accompanying adults should not have babies/toddlers/buggies with them.
Room hire for bags and lunch
If you require space to deposit bags and to have lunch please inform the museum when arranging the visit.
---
Loans Collections
Available for use in schools or other educational settings:
Victorian Washday
Pre-History
Toys through the Ages
Romans
World War II
Loans collections are charged at the rate of £10.00 per week.
---
Facilities available
If you would like to visit the museum we currently offer self-guided tours for schools and large groups.
Our Museums
Coldharbour Mill Working Wool Museum - Learning with a Difference!

Coldharbour Mill Working Wool Museum

Dartmouth Museum: A great place for kids

Dartmouth Museum

Exmouth Museum - Working with Schools and Older People

Exmouth Museum and Heritage Centre registered charity 291311

Fairlynch Museum - working with schools and colleges

Fairlynch Museum Budleigh Salterton

Jo's Room

Dawlish Museum

Learning and Participation at Tiverton Museum of Mid Devon Life

Tiverton Museum of Mid Devon Life

Learning at Arlington Court

Arlington Court

Learning at Arlington Court

National Trust Carriage Museum

Learning at Lyme Regis Museum

Learning at RAMM

Royal Albert Memorial Museum and Art Gallery

Learning Opportunities

Newton Abbot Town and GWR Museum

Learning with the Museum of Barnstaple and North Devon

The Museum of Barnstaple and North Devon

Our Education Programme

Totnes Fashion and Textiles Museum

Our Educational Facilities

Teign Heritage Centre Home to Teignmouth and Shaldon Museum

School programme

Brixham Heritage Museum

School visits

Museum of British Surfing

South Devon Railway Museum: be a part of living history

South Devon Railway

Topsham in World War One

Topsham Museum

Trip Advisor

Lyn and Exmoor Museum