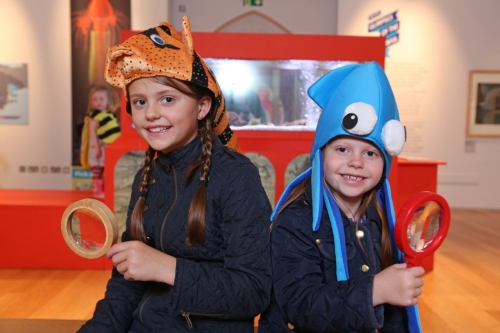 Learning at RAMM
RAMM's world-class collections and ambitious programming ensure that the museum is a place of discovery which encourages everyone to be curious, and inspires us to shape a better future. Our museum is a service of Exeter City Council, its major funder. RAMM is also an Arts Council England National Portfolio organisation. The museum runs a busy schools programme, as well as providing a range of online learning resources and resources for home educators.
Resources available
Our strengths
Education highlights available in the museum and from home include:
Arts Award Discover is a certificate and introductory award for children and young people. It is also a creative and fun way to find out about RAMM and the many different things the museum has in it. The awarding body is Trinity College London. It costs £5 per Arts Award booklet, and there are two levels to choose from, one aimed at 6-10 year olds, the other at 11-25s. Find out more.
Recently launched, our Transatlantic Slave Trade online learning resources are informed by the 2022 exhibition 'In Plain Sight: Transatlantic slavery and Devon'. If you are teaching or learning about the transatlantic slave trade, these resources will help you. You could deepen your knowledge about the local impact and Devon's involvement by exploring some of the information and real objects in the RAMM in Exeter. Find out more.
See Things Differently cards can be found in the exhibition Hollow Earth until January 2024. These fun, illustrated cards provide prompts for you to respond to what you see in the exhibition and around the museum, with space to draw, doodle, write and use your imagination.
Facilities available
RAMM is fully wheelchair-accessible. There are accessible toilets and baby changes on both floors of the museum. Ear defenders can be borrowed from Reception. There is also an audio loop available.
RAMM has a cafe, serving local food and hot and cold drinks, and a gift shop stocked with toys, books, art and gifts.
A visual story, helpful for visitors who would like to prepare themselves for their visit before they arrive, is available online. Find this and the full list of facilities here: Access - RAMM (rammuseum.org.uk)
Other places to visit in the area
The Underground Passages
St Nicholas' Priory
Little Exeter
Exeter Cathedral
Exeter's historic Guildhall
The Custom House
Our Museums
Coldharbour Mill Working Wool Museum - Learning with a Difference!

Coldharbour Mill Working Wool Museum

Dartmouth Museum: A great place for kids

Dartmouth Museum

Exmouth Museum - Working with Schools and Older People

Exmouth Museum and Heritage Centre registered charity 291311

Fairlynch Museum - working with schools and colleges

Fairlynch Museum Budleigh Salterton

Jo's Room

Dawlish Museum

Learning and Participation at Tiverton Museum of Mid Devon Life

Tiverton Museum of Mid Devon Life

Learning at Arlington Court

Arlington Court

Learning at Arlington Court

National Trust Carriage Museum

Learning at Lyme Regis Museum

Learning at RAMM

Royal Albert Memorial Museum and Art Gallery

Learning Opportunities

Newton Abbot Town and GWR Museum

Learning with the Museum of Barnstaple and North Devon

The Museum of Barnstaple and North Devon

Our Education Programme

Totnes Fashion and Textiles Museum

Our Educational Facilities

Teign Heritage Centre Home to Teignmouth and Shaldon Museum

School programme

Brixham Heritage Museum

School visits

Museum of British Surfing

South Devon Railway Museum: be a part of living history

South Devon Railway

Topsham in World War One

Topsham Museum

Trip Advisor

Lyn and Exmoor Museum