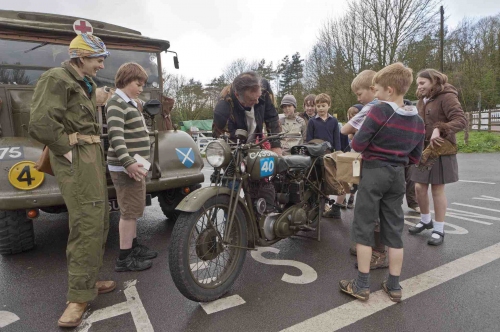 South Devon Railway Museum: be a part of living history
The South Devon Railway Museum is on the platform at Buckfastleigh station. We are easy to reach from the A38 and A384 from Totnes. Remember that our whole railway – seven miles from Totnes through Staverton to Buckfastleigh – is a living museum. Visitors don't just see history – they are immersed in it.
The South Devon Railway and Museum are open daily from just before Easter to the end of October.
Museum Curator and Education officer: John Brodribb
Phone: 0845 345 1420
Email: editor.bulliver@southdevonrailwayassociation.org
Resources available
Displays include the only original locomotive built to Brunel's broad gauge, plus the former Exeter gas Works shunting engine Ashley. You can go on Ashley's footplate and learn about driving a steam engine. We have a large collection of paintings and photographs showing the history of railways in South Devon, the Ashburton branch and the Totnes Quay line. We show you silverware from the Great Western Railway's restaurant cars, and a bit about the wool trade on which Buckfastleigh was built.
We give Presentations to local groups about all aspects of the railway.
Our strengths
We encourage children - and all visitors - to interact with our exhhibits and displays. You can go in the cab of Ashley, our shunting engine. You can wave the flags and blow the whistle. You can sit in the Littleworth coach, built way back in 1848. Young children have a colouring table, a wooden trains table and building blocks. You can operate a real signal inside our museum!
Facilities available
The museum itself can accommodate up to 40 pupils at one time, and we can handle larger groups – up to about 100 – if given sufficient notice, by rotating them around different activities and areas on the site. We have a large café, covered and open areas for picnics and lunch breaks, and good toilet facilities. There is parking for coaches. Parties can arrive at either end of the line – Buckfastleigh or Totnes – and travel by steam train from both. The South Devon's station at Totnes is about a quarter mile from the National Rail station, with an easy walk almost entirely off-road.
The museum and public areas of the railway are fully accessible.
Other places to visit in the area
Dartmoor Otters & Buckfast Butterflies are at Buckfastleigh station. The Totnes Rare Breeds Farm is just off the platform of our Totnes Riverside station.
Our Museums
Learning at Arlington Court

Arlington Court

School programme

Brixham Heritage Museum

Jo's Room

Dawlish Museum

Exmouth Museum - Working with Schools and Older People

Exmouth Museum registered charity 291311

Learning with the Museum of Barnstaple and North Devon

The Museum of Barnstaple and North Devon

South Devon Railway Museum: be a part of living history

South Devon Railway

Fairlynch Museum - working with schools and colleges

Fairlynch Museum

Coldharbour Mill Working Wool Museum - Learning with a Difference!

Coldharbour Mill Working Wool Museum

Dartmouth Museum: A great place for kids

Dartmouth Museum

Topsham in World War One

Topsham Museum

Trip Advisor

Lyn and Exmoor Museum

Learning Opportunities

Newton Abbot Town and GWR Museum

Our Educational Facilities

Teign Heritage Centre Home to Teignmouth and Shaldon Museum

Tiverton Museum of Mid Devon Life Education Services and Resources

Tiverton Museum of Mid Devon Life

Our Education Programme

Totnes Fashion and Textiles Museum

Learning at Arlington Court

National Trust Carriage Museum

Learning at Lyme Regis Museum

Lyme Regis Museum

School visits

Museum of British Surfing