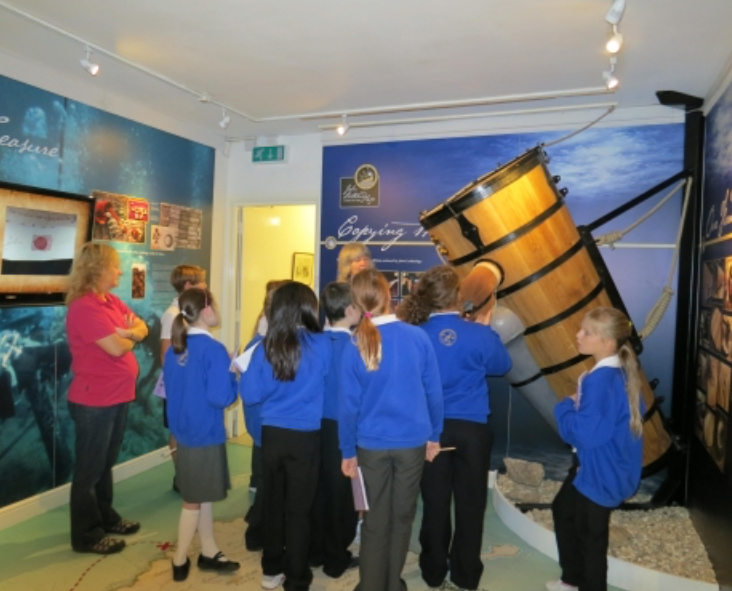 Fairlynch Museum - working with schools and colleges
The Museum is on Fore Street, close to the beach in Budleigh Salterton. The Museum is open from the beginning of April to the end of September and has artefacts, photographs and press cuttings telling the story of how the town has evolved.
Education contact:
Tel: 01395 442666
Email: info@fairlynchmuseum.uk
Resources available
Displays include collections of geological specimens, including the remarkable nodules from Budleigh Salterton cliffs; items of archaeological interest including Roman and Bronze Age artefacts; natural history of the Lower Otter Valley; costumes from the first half of the 17th century.
Our strengths
We encourage visits from schools preferably with advance notice. We welcome children from aged 5 to 14, i.e. Key Stages 1, 2 and 3, as well as older students including those with an interest in the history of fashion. Click on http://budleighbrewsterunited.blogspot.com/2011/02/keeping-art-alive-at-fairlynch.html to see a recent example.
We collaborated in 2011 with Bicton College so as to allow its Environmental Education students the chance of organising an environmental community event for families from Budleigh and the surrounding area. See http://www.devonmuseums.net/Family-fun-day-for-young-explorers/Latest-News/Fairlynch-Museum/Museum-News/ for details.
Our team of volunteers includes current and former teachers.
Facilities available
The Carter Reference Library is open on Thursday afternoons, or by arrangement. Fairlynch Museum also has a Local History Room with an impressive collection of folders devoted to aspects of life in Budleigh Salterton, including building development and notable former residents of the town.
Other places to visit in the area
Budleigh Salterton pebble beach is a good place for picnics
Steamer Steps cliffs are regularly visited by parties of geology students
The National Trust's A La Ronde, outside Exmouth, is an interesting example of an architectural landmark associated with the lives of two remarkable women. A comparison may be made with the founding of Fairlynch Museum in the 1960s and its origins in the collections of costumes and geological specimens.
Learning Downloads
Our Museums
Coldharbour Mill Working Wool Museum - Learning with a Difference!

Coldharbour Mill Working Wool Museum

Dartmouth Museum: A great place for kids

Dartmouth Museum

Exmouth Museum - Working with Schools and Older People

Exmouth Museum registered charity 291311

Fairlynch Museum - working with schools and colleges

Fairlynch Museum Budleigh Salterton

Jo's Room

Dawlish Museum

Learning at Arlington Court

Arlington Court

Learning at Arlington Court

National Trust Carriage Museum

Learning at Lyme Regis Museum

Lyme Regis Museum

Learning Opportunities

Newton Abbot Town and GWR Museum

Learning with the Museum of Barnstaple and North Devon

The Museum of Barnstaple and North Devon

Our Education Programme

Totnes Fashion and Textiles Museum

Our Educational Facilities

Teign Heritage Centre Home to Teignmouth and Shaldon Museum

School programme

Brixham Heritage Museum

School visits

Museum of British Surfing

South Devon Railway Museum: be a part of living history

South Devon Railway

Tiverton Museum of Mid Devon Life Education Services and Resources

Tiverton Museum of Mid Devon Life

Topsham in World War One

Topsham Museum

Trip Advisor

Lyn and Exmoor Museum