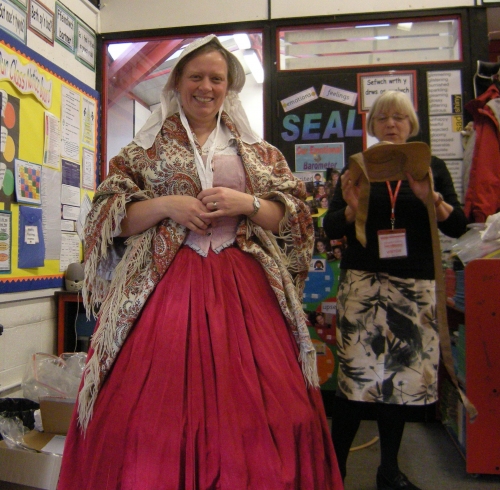 Our Education Programme
Museum of Fashion and Textiles Totnes
Our museum houses a large collection from the eighteenth century to the present day which is always available for students of fashion, textiles and costume.
There is an associated library, archive, shop and handling collection.
People who wish to use our resources for study should contact the curator Jula Fox on 01803 862857
Resources available
Totnes Fashion Museum Victorian Box
What's inside the box?
Have you ever wondered what it would be like to get dressed in the morning in the 1860s? Well inside our box we have everything from nightdress and undergarments to a crinoline dress complete with hoops, shawl, muff and bonnet.
There is illustrated information about the order that the garments should be donned so that you can dress up your own Victorian lady. These are real life-size garments.
There is also a class set of cotton shawls for the girls and neckerchiefs for the boys to help the audience get in the mood along with information, photos and a few artefacts to bring the experience alive.
We are available to come to your school (within reasonable travelling of Totnes) to present "Dressing a Victorian Lady" at an assembly or in a class. (about 30 to 45 mins)
Or you could borrow the box. A small deposit is required in this case
Or better still bring your class to the museum.
Please contact Alison on info@totnesfashionandtextilesmuseum.org.uk
Other resources
Our strengths
Annual themed exhibition
Outreach education programme for schools and adult groups.
Guided tours by arrangement.
Promotion of contemporary textile crafts.
Related workshop programme.
Costume conversations - an oral history project.
School curriculum links:
History (local social history; history of fashion; Victorians; 1930s and second world war dress; development of textiles and techniques)
Geography (trade in woollen, cotton and silk cloths)
English (costume/social history related stories. Creative writing)
Science and Design Technology (development of printing and dyeing techniques; development of natural and synthetic textiles and their uses)
ICT (research fashion and textiles via our website)
Art and Design (use our collection for inspiration)
Facilities available
Libray and archive
The Devonshire Collection of Period Costume.
Museum shop.
Toilets and cafes are nearby.
Wheelchair access to ground floor shop only.
Other places to visit in the area
Totnes Elizabethan Museum
Totnes Castle
Totnes Image Bank and Rural Archive.
The Guildhall
Learning Downloads
Our Museums
Coldharbour Mill Working Wool Museum - Learning with a Difference!

Coldharbour Mill Working Wool Museum

Dartmouth Museum: A great place for kids

Dartmouth Museum

Exmouth Museum - Working with Schools and Older People

Exmouth Museum registered charity 291311

Fairlynch Museum - working with schools and colleges

Fairlynch Museum Budleigh Salterton

Jo's Room

Dawlish Museum

Learning and Participation at Tiverton Museum of Mid Devon Life

Tiverton Museum of Mid Devon Life

Learning at Arlington Court

Arlington Court

Learning at Arlington Court

National Trust Carriage Museum

Learning at Lyme Regis Museum

Learning Opportunities

Newton Abbot Town and GWR Museum

Learning with the Museum of Barnstaple and North Devon

The Museum of Barnstaple and North Devon

Our Education Programme

Totnes Fashion and Textiles Museum

Our Educational Facilities

Teign Heritage Centre Home to Teignmouth and Shaldon Museum

School programme

Brixham Heritage Museum

School visits

Museum of British Surfing

South Devon Railway Museum: be a part of living history

South Devon Railway

Topsham in World War One

Topsham Museum

Trip Advisor

Lyn and Exmoor Museum