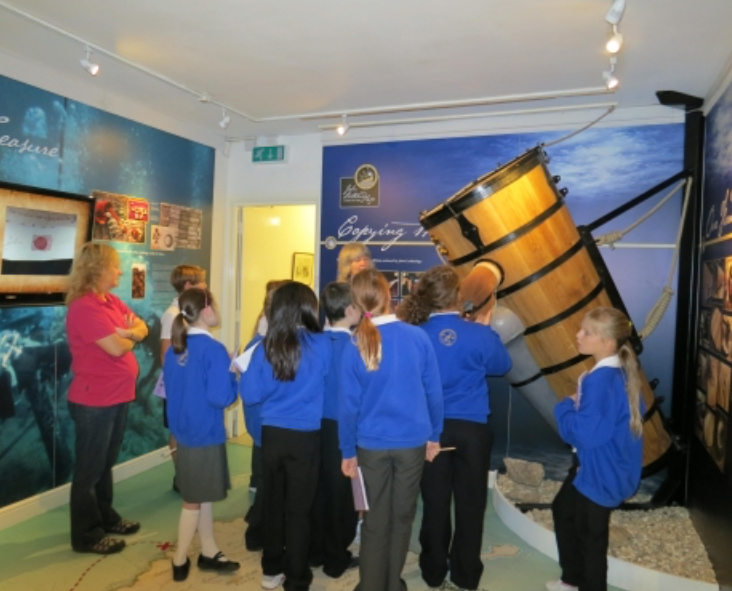 Dartmouth Museum: A great place for kids
Dartmouth Museum is a small, fascinating and interesting museum housed in an atmospheric old merchant's house, built in approximately 1640.
The Museum houses an extensive collection of artefacts, models, paintings and photographs which can help you explore and develop your interests, whether they be in maritime history, the social and economic history of the town of Dartmouth, or the physical changes to the town over the past centuries.
From the moment you walk through the door you will be transported into the past life of this wonderful town, and begin to understand more about the strong link between the people of the town and the sea.
It's a great day out for a wet day or a dry one. Most important, visit our official web site's FUN STUFF to find out more
Resources available
The Henley Trail looks at the work of William Cumming Henley, Dartmouth's self taught scientist, artist, poet, and writer. Henley's life and work is featured in The Henley Collection in Dartmouth Museum. The collection is designed to be not only informative, but also a hands on exhibit, with a table where young and old folk alike can see for themselves the things William Henley studied.
Inside the Museum the Henley Collection itself features hands on microscopes and other scientific tools as used by William Henley. Young and old alike are encouraged to see what he saw, and to experience life in his study
There are quizzes aimed at different age groups to make sure that young people get the most fun out of the museum visit as well as gaining new knowledge
Our strengths
Fun! We love fun. Want to learn something? Then enjoy it.
Facilities available
School visits are arranged by Ali Taylor. Different levels of visit are available to suit the different stages of the curriculum. A school visit should always include The Henley Trail.
Ali Taylor may be contacted via Dartmouth Museum during opening hours on 01803 832923 (if she is not on duty a message will be taken) or by email to dartmouth@devonmuseums.net
Other places to visit in the area
If you want to know what else to do near Dartmouth Museum, our official site has a load of details about fun things to do
Our Museums
Coldharbour Mill Working Wool Museum - Learning with a Difference!

Coldharbour Mill Working Wool Museum

Dartmouth Museum: A great place for kids

Dartmouth Museum

Exmouth Museum - Working with Schools and Older People

Exmouth Museum registered charity 291311

Fairlynch Museum - working with schools and colleges

Fairlynch Museum Budleigh Salterton

Jo's Room

Dawlish Museum

Learning and Participation at Tiverton Museum of Mid Devon Life

Tiverton Museum of Mid Devon Life

Learning at Arlington Court

Arlington Court

Learning at Arlington Court

National Trust Carriage Museum

Learning at Lyme Regis Museum

Learning Opportunities

Newton Abbot Town and GWR Museum

Learning with the Museum of Barnstaple and North Devon

The Museum of Barnstaple and North Devon

Our Education Programme

Totnes Fashion and Textiles Museum

Our Educational Facilities

Teign Heritage Centre Home to Teignmouth and Shaldon Museum

School programme

Brixham Heritage Museum

School visits

Museum of British Surfing

South Devon Railway Museum: be a part of living history

South Devon Railway

Topsham in World War One

Topsham Museum

Trip Advisor

Lyn and Exmoor Museum