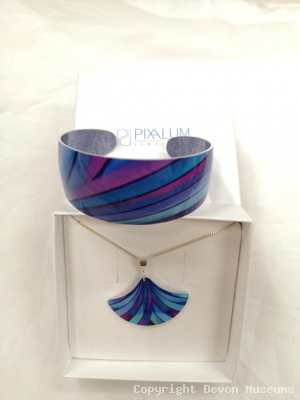 pixalum jewellery Bangle and pendent made in the UK
Price: £92.50
Stock: 1 available
Pixalum jewellery made out of Aluminium. Super light-weight smooth and elegant with beautiful colours and clever deigns making this items very tactile indeed. C shaped bangle flowing with ribbon effect shades of Mauve/blue/turquoise . Inside the bangle: - a soft mauve with circles and line design all trimmed off with a silver edge. To complement a fan shapes pendent with matching colours and design. The back of the pendent s is a soft mauve. Set on an elegant silver clasp hanging from an approximant 22cm long chain. Bangle diameter 6.5cm depth 2.5cm - Pendent 4cm wide by 2.5cm drop.
You might also be interested in?
Unlined,spine, note book, image from Harvest Jug 170

£3.50

unlined-spine back note book15cm-10cm image taken from our Harvest jug 1760.

fridge magnet image from our Harvest jug 1760

£1.50

Fridge magnet 8cm-5cm image taken from our Harvest jug 1760.