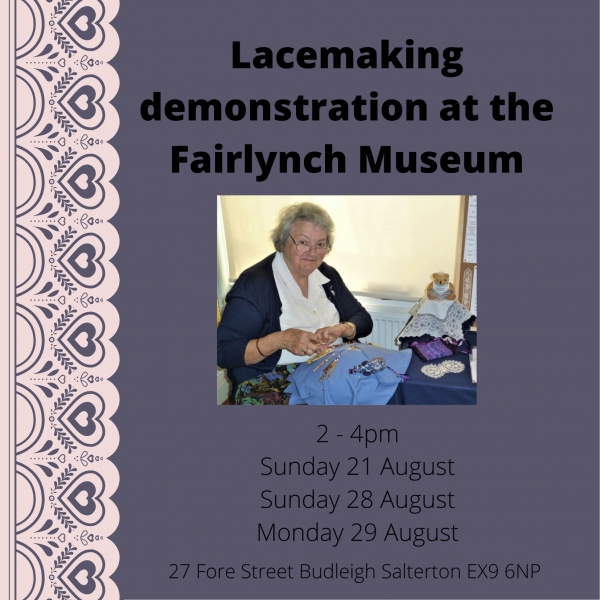 By: Clare Suttie
Added: 16 August 2022
Fairlynch Museum, 27 Fore St, Budleigh Salterton EX9, UK
map
directions
Lacemaking Demonstration at Fairlynch Museum
No booking needed, free event - though usual Museum general admission fee applies.
These will be at the Museum, given by our Head of Lace Sue Morgan - who has been making lace for over 30 years.
These will be taking place at Fairlynch on Sunday 21st, Sunday 28th and Monday 29th August, from 2 to 4pm.
At the height of the lace trade men, women and children worked as lace-makers and the children learnt their skills at lace-schools, where they might also be taught their letters. The 1841 Employment of Children Report mentions Eleanor Rice, aged 48 of Newton Poppleford, who began to make Trolly lace at the age of 5 or 6 in 1798 and Mary Driver, 30 from Beer who learned Trolly at the age of 6 in 1819. After the Education Act of 1870 several local schools included lace-making among their lessons. Otterton Primary School included it in their curriculum until the 1930s.
Learn lots about lace at the Fairlynch Museum!