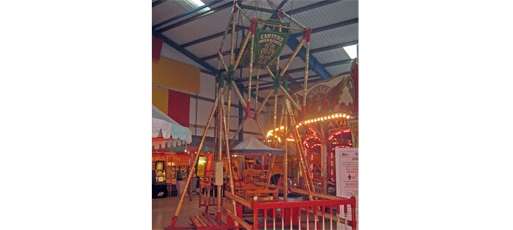 Oldest Ride features at Fairground Heritage Centre - Dingles Fairground Museum
By: Michael Smith
Added: 25 April 2013
Joining the exhibits at Dingles Fairground Heritage Centre this season is a set of Overboats. Overboats first appeared on British fairgrounds around a century and a half ago, and this is certainly the oldest ride to appear in the Museum, dating back to the 1870s.

This is possibly the only set still surviving, having been rescued by enthusiast, Jeff Bach in the 1960s. There is much speculative guesswork as to who may
have originally operated this particular set, but it is first documented as having been acquired by Alfred Wilkins of Birmingham from Harriet Roberts in about 1959.

Although the ride is on excellent condition and is operable, it is anticipated it will only be used on special occasions.

We are indebted to Anna Carter of Carters Steam Fair for the loan of this historically important piece of fairground equipment.