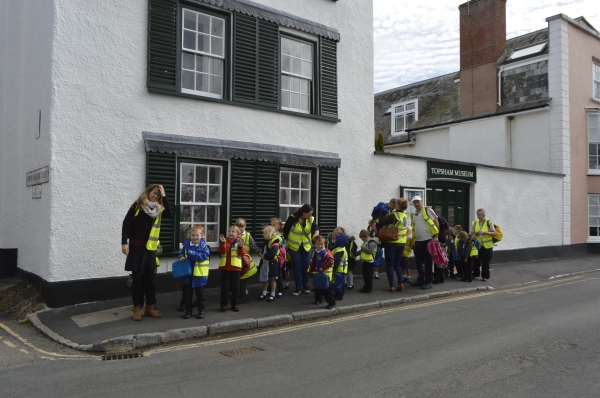 By: Glynis Bebb
Added: 29 September 2016
On Thursday and Friday, 29th and 30th September , the Museum was visited by two Year 1 classes (aged between five and six years old) from Whipton Barton School with their teachers and some parents. Their unit of study is 'What makes a house a home?' and they are exploring and comparing different homes both past and present as well as being presented with a museum experience. They arrived after 10:00 having had the adventure of a train ride and the walk through Topsham by the river. There were four education volunteers on each day and we had arranged three activities to help their understanding and comparison of everyday life now and in
different eras.

One group was introduced to washing tea towels in a tin tub with soapflakes, a washboard and a dolly to swish the washing round -followed by learning how to wring out clothes and peg them out on a line with wooden pegs, or drape them over bushes to dry. Thesecond group explored the World War II kitchen with its appliance and rations and the third group looked closely at the model of Topsham Town in the Twentieth Century ( which they were just tall enough to see across) and the Victorian doll's house, encouraged by some dress up school costumes. Then they had a look at the 17th C bedroom and Parlour. One or two of the children were a little concerned about the mannequin in costume in the Parlour as they wanted to know if she could walk around and we're pleased to find out that she couldn't!

Then it was time for lunch in the garden and the return trip to Whipton Barton and a rest as they had been well behaved, worked hard and discovered much.
We hope that the students, teachers and parents enjoyed themselves
as much as we all did and look forward to other visits of exploration.