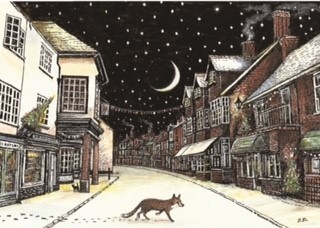 Topsham Museum Christmas cards ON SALE NOW! - Topsham Museum
By: Rachel Nichols
Added: 19 September 2020
Topsham Museum have launched their Christmas card and they are onsale from 1st October 2020.
Based on the delightful Lock Down Fox drawings by Phil Keen, the card looks forward to Christmas with Fore Street decorated by lights and trees ( although whether there will be snow is outside our management!). The Fox is on his nightly amble checking that all is as usual in the town.

The simple greeting "With Best Wishes for Christmas and the New Year" completes the scene

Sold in packs of 5 cards, they are available NOW through our online shop, at the Saturday Market at Matthews Hall on 3rd,17th and 31st October or at 21 Victoria Road Topsham. round Topsham for other sales venues.