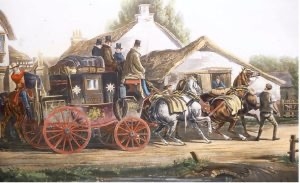 Travel in Devon before the Railways by Alan Rosevear - Topsham Museum
Added: 25 April 2022
Our next lecture will be at Matthews Hall, Topsham on Tuesday 26th April at 12 noon. Doors open at 11.45.
An exploration of inland travel before the railway age
This talk will draw on recent studies of travel diaries and commentaries from the late 17th century to mid-19th century, covering the transition from saddle horse to carriage, parish roads to turnpikes and the decisions people made on their mode of transport. The focus will be on Devon and surrounding counties and how this related to our local area.
Alan Rosevear is a retired research scientist with a lifetime interest in the history of road transport. He has been active in the restoration of roadside heritage and research into the development of turnpike roads and is currently part of a project using digital mapping to understand the development of road transport up to 1840.
This Lecture is £3 each or you can pay for the full series of 6 Lectures £15 (pay at the door)
To reserve a seat please use this link: https://www.eventbrite.com/e/travel-in-devon-before-the-railways-by-alan-rosevear-tickets-293707144977