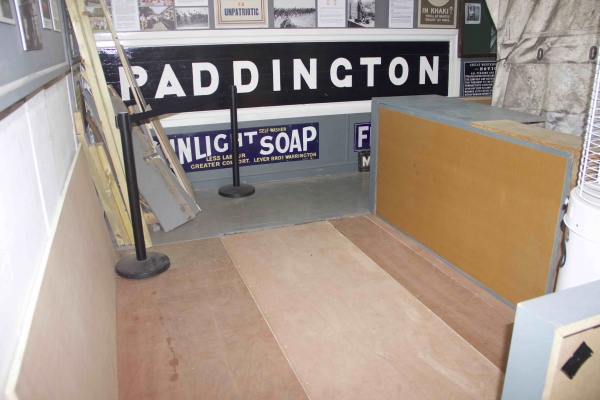 By: John Brodribb
Added: 11 May 2016
The major shunt that was flagged up earlier in the month duly took place on Thursday 05 May. The DAMO - our 1930s car carrying wagon - was shunted out, and the Austin 7 inside returned to its owner. At the same time another exhibit, the Littleworth coach, was shunted in. This is said to date from the 1840s and requires extensive conservation work before it can be exhibited.
We had a huge amount of work to do following the Big Shunt. The partition between the museum and the SDR Carriage & Wagon workshop in the other end of the building had to be reinstated. C&W staff did this on Friday morning. At the same time museum volunteers undertook preliminary work to instal new bearers for the floor.
On Monday and Tuesday museum volunteers manufactured and installed three new floor sections. They are designed to be easily demountable when any future moves of wagons, coaches or locomotives are needed. They then erected safety barriers around the Littleworth coach, which is still under wraps, and reinstated the museum's popular sales area. As you can see from the photo there is much still to do, but the new floor area opens up new possibilities for display.
On Wednesday 11 May the museum was rewarded by a very successful visit by Chagford Primary School, with the whole museum again fully open. Do come in and see us! We are open every day until th end of October.