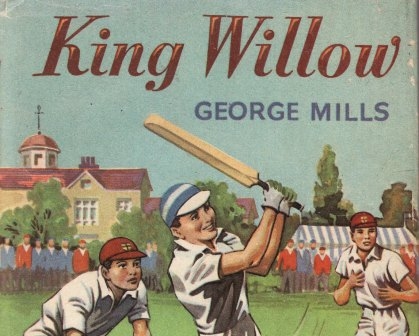 Who is George Mills The question remains for Budleigh Salterton - Fairlynch Museum
By: Michael Downes
Added: 06 October 2011
An American researcher is making his final call for information about the life of a successful yet little-known author of children's books who lived in Budleigh Salterton from the late 1950s to 1972.
Fairlynch Museum's Local History Room contains an impressive array of folders which have proved of immense value for people seeking information about Budleigh Salterton's past. They hold biographical details of various eminent or interesting former residents who settled in the town or simply spent time there on holiday, including a number of authors of children's books. Rodney Bennett, Jean Blathwayt, and Charles Warrell - better known as Big Chief I Spy - will be names familiar to many today who enjoyed their works in their younger days.
The folders proved invaluable for mounting exhibitions at the Museum such as the excellent display of Budleigh-linked authors which coincided with the first Budleigh Salterton Literary Festival of 2009 http://www.budlitfest.org.uk/
Hitherto absent from Fairlynch records has been the name of George Mills. That was until Florida-based teacher Sam Williams embarked on a quest which has become something of an obsesssion.
George Mills wrote three very popular books for boys. Titles include Meredith & Co: The Story of a Modern Preparatory School (1933), King Willow (1938), Minor and Major (1939), and St. Thomas of Canterbury (1939). Although Mills never published a book after 1939, he saw his work reprinted for another generation into the late 1950s. Born in Bude, Cornwall, in 1896, he died in Budleigh in 1972.
Mills' most famous book, Meredith & Co captured the idiom of pupils during the interwar period more accurately than any other novel, feels Sam Williams. Five years later, Mills published a sequel, King Willow. The books followed the maturation and adventures of a group of fun-loving boys in fictional Leadham House Preparatory School. Leadham House was based on the teaching experiences of Mills while on the staff at Windlesham House School in Portslade, and Warren Hill School in Meads, both in East Sussex, between 1925 and 1933.
Mills was a preparatory schoolmaster as well as an author of children's adventure stories. His whimsical tales often revolve around boys' preparatory schools in Britain and often involve sports like cricket, pranks, and mysteries, as well as a beloved pet bulldog, Uggles.
Mills also taught at The Craig School on Lake Windermere, the English Preparatory School in Glion-sur-Montreux, Switzerland, and Eaton Gate Preparatory School in London between 1926 and 1938, and at Ladycross School, a Catholic boys' preparatory school in Seaford, East Sussex, in 1956.
Budleigh residents today who were acquainted with George Mills knew nothing of his career as an author, though some had come across him as a croquet player and his sisters Agnes and Violet were remembered as fanatical croquet players. All three lived together in a house called Greyfriars in Westfield Road.
Greyfriars was the name of the school in the Billy Bunter stories written by Frank Richards from 1908, noted Sam Williams. Did George Mills name the house, or was it the name that persuaded him to settle in Budleigh Salterton, he wondered.
"It's difficult to say how I came to fixate on George Mills enough to blog about him and his kin," says Sam Williams. "Originally, it stemmed from a television reference, 'King Willow,' which at the time sent me off to the internet to discover the source of the term." It was there that he stumbled across the name of George Mills and his trilogy of books about boyhood, cricket, and education, including one titled King Willow.
"I suppose the fact that my paternal grandmother hailed from Manchester, but denied all ties to her country of origin after emigrating here, may make my quest for George Mills something like a diving into my own heritage," muses Sam. "Untrustworthy family lore suggested that Grandma Williams (née Radcliffe) had been the estranged daughter of a Manchester textile magnate, but I've discovered that her father passed away as a grocer in California after having followed her to the United States 100 years ago. What became of her family in the UK has been difficult to trace."
"When all is said and done, though, I think my true attraction to the Mills clan stems from something far more personal than even my desire to rekindle a relationship with the lost land of my ancestry. I feel broken-hearted that the literary works of George Mills [and his brother, Arthur, and sister-in-law, Lady Dorothy Mills] had all but faded into obscurity. Despite having been published and at times acclaimed authors, all of the family members are at best little-known today.
As a man finding himself now on the far side of fifty years, I look at the legacy I, myself, am leaving. The Mills clan certainly made far greater contributions to posterity than I ever have, and yet they are all but forgotten except for my own efforts on their behalf. Many of their own living, distant family members have admittedly forgotten them completely, or strangely want nothing to do with them being remembered at all. It all makes me wonder about the place I've carved out for myself in this world - a place far less notable than the Mills family members - and how I'll be either remembered or forgotten in the future. It can be a sobering thought to know that no one may care enough to keep one's memory alive."
Such are Sam Williams' somewhat sombre thoughts on the reasons for his extraordinary quest which has led him from March 2010 until 30 August this year to contact a range of sources that included Harrow School, Oxford University, The Royal Military Academy Sandhurst, Eastbourne Local History Society, The Croquet Association and of course Fairlynch Museum.
But now, after 300 posts on his website and many hundreds of hours of research, Sam Williams feels that unless new information comes to light that would help him know more in answer to the question, "Who Is George Mills?" then his work is essentially done.
Being online, that work - to find out more about a mysterious Budleigh author who has faded so sadly from view - is totally different in character from the contents of the folders in Fairlynch's Local History Room. But it's no less impressive in terms of scholarship and depth. Click on http://www.whoisgeorgemills.com/ to see why.