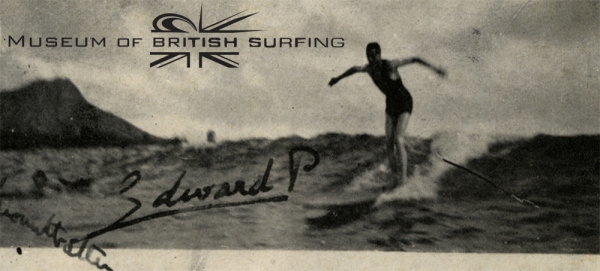 Easter holidays and 2015 opening Museum of British Surfing - Museum of British Surfing
By: Museum of British Surfing
Added: 24 March 2015
The Museum of British Surfing is back with full-time opening from the start of the school Easter holidays in North Devon on Saturday March 28th 2015 – and we have a new display room open, a sale in our gift shop and of course great childrens activities (plus kids go free)! This year we're celebrating 125 years since the earliest recorded surfing in the UK with a wonderful celebration of our surf culture; British surfing pioneers 1890 – 2015.
Stories of Hawaiian princes surfing our chilly waters with their English guardian in 1890; British royals getting hooked on surfing in the 1920s; the pioneers of Cornwall, Devon & Jersey between the two World Wars rub shoulders with contemporary tales of the Viscount who became Britain's first pro surfer in the 1970s and our current crop of world renowned big wave experts.
For 2015 we've introduced a new annual ticket at just £5; plus with your standard adult and concession tickets you can now come back again free over the following 7 days! Children aged sixteen and under still go free.
We're opening six days a week – Monday to Saturday from 10 until 4 – until the end of September when we change to our Autumn/Winter opening schedule.
Surfboards and other items on display have been selected to help tell the story of surfing in Britain, and you'll find QR codes to many items on display so that you can discover even more information on your smartphone. There really is something for everyone from novice to expert, with our kids activities, games, films, interactives and more.
Expect more fantastic events throughout 2015 – bellyboard competition & beach picnic, surf films, classic VW displays, vintage surf swap meet, music, art & culture, plus a brand new exhibition launching in the late Autumn with some very special surfboards on display and some big surprises!
The museum is the perfect visitor attraction for all the family, whatever the weather and waves are doing! Don't forget we have a gift shop that's free to enter, stacked with unique items for that special souvenir of your visit.
You can find the Museum of British Surfing in the Caen Street car park, Braunton, North Devon EX33 1AA – see the information section on our website for opening times, admission charges and directions.