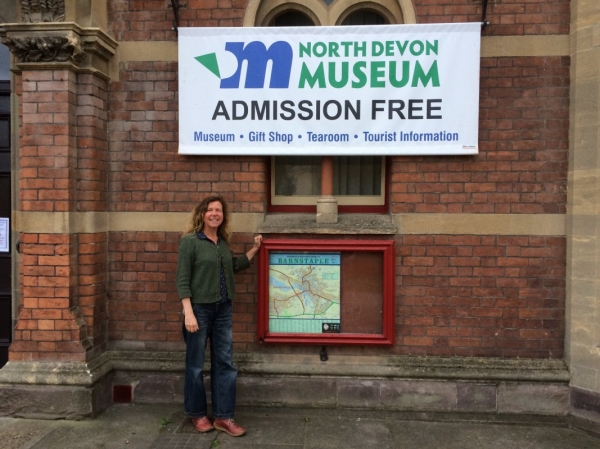 By: Mair Smith
Added: 10 November 2017
Plans are moving forward in the delivery of the much-anticipated Long Bridge Wing Extension project at the Museum of Barnstaple and North Devon.
The £1.8m extension will provide a bigger and brighter entrance to welcome visitors, as well as increasing the floor space, offering the opportunity for more displays and exhibitions, including a new 20th and 21st century social history gallery. The museum team will be working with the local community to help with this exciting new project and a three-year activity plan is already underway.
Sadie Green recently joined the museum team as Activity Plan Coordinator. Sadie's role will include setting up a "pop-up" museum to sort through some of the items needed for the new Social History Gallery. The pop-up will open in early 2018 and, once the space is finalised, objects will be moved from storage and local experts called upon to help identify them and tell their story. It will be the first time some of these objects have been on public display.
Sadie says: "I'm delighted to be be joining the team at such an exciting phase in the museum's development. I'm really looking forward to meeting lots of local people when we open the pop-up museum early next year. We'll be inviting residents and community groups to tell us what they know about some of the objects in our collection that are currently in store and have never been seen in public before! "
The museum is owned and managed by North Devon Council. Executive Member for Parks, Leisure and Culture, Councillor Dick Jones, says: "I'd like to welcome Sadie to the museum team and look forward to watching the project develop. The team will need the help of local communities and history enthusiasts to bring life to the collection, so keep an eye out for the pop-up museum early next year and get involved if you can."
The main funders of the museum extension project include Fullabrook CIC, Garfield Weston Foundation, Coastal Communities Fund, Heritage Lottery Fund, North Devon Council, the Foyle Foundation and Arts Council England.
If you would like to support the extension project, you can still donate by popping in to the museum and completing a donation form to buy a brick or a named floor tile. You can also donate online. Go to mbndtrust.org and click on the yellow 'donate' button. For more information about corporate sponsorship contact the museum on 01271 346747 or email museum@northdevon.gov.uk.