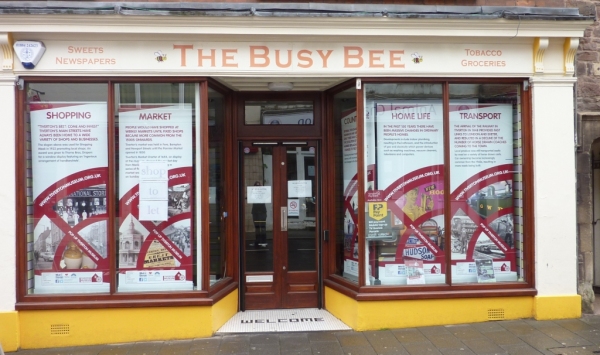 By: Tiverton Museum of Mid Devon Life
Added: 16 August 2013
Tiverton Museum of Mid Devon Life's Pop Up Museum is now in shop windows around the town. One window of the old Julian Graves shop on Fore Street features a timeline of local history, and a banner promoting local attractions such as Knightshayes, the Castle, Bickleigh Mill and the Grand Western Canal. The old Busy Bee Shop on Gold Street displays themed banners on topics reflecting some of the museum's extensive collection, such as transport, the market and shopping in Tiverton.
The museum is very grateful to Cllr Sue Griggs from the Town Team for offering us a window in Julian Graves and to Shawn Grace from Busy Bee for generously allowing access to his old premises on Gold Street.
The Pop Up Museum was funded through Mid Devon District Council's High Street Innovation Fund.