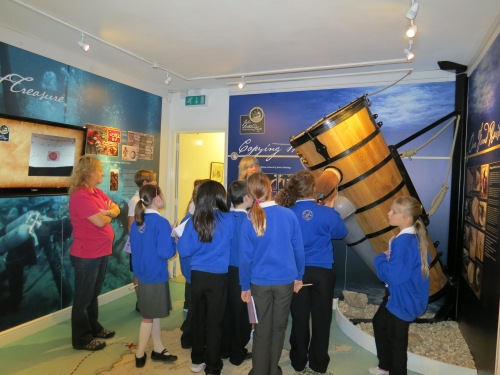 Learning Opportunities
Museums provide learning opportunities for all ages
Where we are:
2a, St Paul's Road, Newton Abbot, TQ12 2HP
01626 201121
Contact: Curator, Felicity Cole
Opening times:
Mid-April to the end of October
Mon-Thurs: 10:00-16:00
Friday:10:00-12:00
Some Saturdays after Easter: 2:00-16:00
We close at the end of October. School visits are possible if booked in advance.
St Leonard's Tower in the centre of the town is managed by the Museum. Group visits to the Tower can be arranged, prior booking is essential.
Admission is free to the Museum and Tower.
We can accomodate up to 30 children in the Museum at one time. Do ring the Curator to discuss your requirements prior to your visit.
Resources available
We have artefacts, photos and archives to inspire childrens' learning
We can provide:
Guided tours within the museum for group bookings
Unassisted school visits
Town Trail leaflets and pre-booked tours
Photographic archive
GWR oral archives
Lectures on local subjects - pre-booking required
Visits to schools and groups bringing objects (which need to be pre-booked).
We can provide 'Then & Now' views of the town, and Victorian Newton Abbot images on CD Rom.
More to explore - a Town Trail for everyone!
In 2011 the museum launched its Town Trail leaflet and walk. The trail will take about an hour and a half to complete depending on how fast you walk.
If you manage to collect all the brass rubbings on the numbered town trail plaques you will be able to collect a free prize from the museum!
(When the museum is closed it is possible to pick up your prize from the Town Hall, 9 Devon Square, Newton Abbot).
Our strengths
Links to the National Curriculum
Our museum collections can support cross curricular learning and skills development at all key stages. Our particular strengths are:
History
The growth and development of Newton Abbot which includes:
Victorian Newton Abbot
The Railways and the influence of I.K.Brunel on the town
The impact of The Great Western Railway on the town
Medieval & Tudor Newton Abbot
Notable Newtonians
English: story-telling and creative writing opportunities.
Geography: the development of the town from early beginnings, including maps & archives.
Town trails to discover ancient buidings and the history behind them.
Why the town was developed and how.
Science and Design & Technology: replica of John Lethbridge's diving machine and the working signal box, locomotives, the atmospheric railway model.
Art & Design: Victorian costume, Aller Vale local art pottery of the Arts & Crafts movement, paintings collection.
Each year the museum creates a new exhibition on the history of the town or the Great Western Railway.
2016 Threads exhibition: a variety of objects illustrating the threads of Newton Abbot's history.
2015 Sandford Orleigh carved overmantle with information about the history and restoration process.
2014 Service & Sacrifice: Newton Abbot in the First World War.
2013 Inside-Out: the architecture & architects of the town.
2012 The Sporting Life of Newton Abbot.
2011 Notable Newtonians.
2010 The Sights & Sounds of Newton Abbot.
2009 John Lethbridge - Newton's 18th Century inventor and diver.
Each exhibition can be used to stimulate creative writing/story-telling and initiate discussions on:
Materials used in the past
Exploration and invention
History and development of the town
Shipwrecks, seafaring & pirates!
Local people that have made a difference to their local area, within the UK or internationally!
History Trails
The museum can also offer 'History Trails' within the centre of town, with short walks and talks to paint a picture of life in Newton Abbot, centred around the Clock Tower, Courtenay Street, Union Street and the Library. Booking is essential and needs to be arranged well in advance.
Examples of walks include:
A Medieval & Tudor Walk
A 17th Century Walk
Noticing Newton Abbot - An architectural walk around Devon Square.
Ring the Museum Curator Felicity Cole on 01626 201121 to discuss your needs.
Newton Abbot has so much hidden history - let us reveal it to you with our enthusiastic and friendly staff!
Facilities available
WC for the disabled.
Small book shop.
The Town Hall Council Chamber within the museum for school visit use (when available, booking essential).
Ex-railwaymen sharing their steam stories of 'fry-ups' and railway life.
Preliminary discussions with the curator prior to your visit.
Other places to visit in the area
Bradley Manor: National Trust, Baker's Park, Newton Abbot 01803 661907. A wonderful local gem tucked away in a wooded valley steeped in local history.
Tuckers Maltings: Teign Road, Newton Abbot 01626 334002. Last working maltings in the UK.
Compton Castle: National Trust 01803 661906. Connections with Newfoundland and Elizabethan exploration. Humphrey Gilbert 'discovered' Newfoundland and was half brother to Sir Walter Raleigh.
Haccombe Church: open on Wednesday pm during the summer period 01626 330311. Early medieval tiles and crusader burials.
Learning Downloads
Our Museums
Coldharbour Mill Working Wool Museum - Learning with a Difference!

Coldharbour Mill Working Wool Museum

Dartmouth Museum: A great place for kids

Dartmouth Museum

Exmouth Museum - Working with Schools and Older People

Exmouth Museum registered charity 291311

Fairlynch Museum - working with schools and colleges

Fairlynch Museum

Jo's Room

Dawlish Museum

Learning at Arlington Court

Arlington Court

Learning at Arlington Court

National Trust Carriage Museum

Learning at Lyme Regis Museum

Lyme Regis Museum

Learning Opportunities

Newton Abbot Town and GWR Museum

Learning with the Museum of Barnstaple and North Devon

The Museum of Barnstaple and North Devon

Our Education Programme

Totnes Fashion and Textiles Museum

Our Educational Facilities

Teign Heritage Centre Home to Teignmouth and Shaldon Museum

School programme

Brixham Heritage Museum

School visits

Museum of British Surfing

South Devon Railway Museum: be a part of living history

South Devon Railway

Tiverton Museum of Mid Devon Life Education Services and Resources

Tiverton Museum of Mid Devon Life

Topsham in World War One

Topsham Museum

Trip Advisor

Lyn and Exmoor Museum